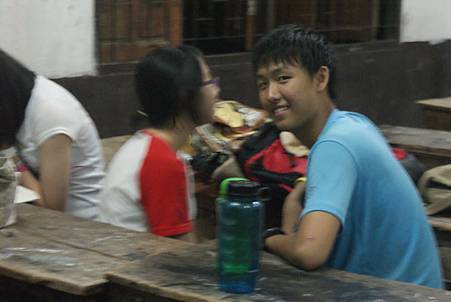 I can hardly remember the last time I cried, but I'm sure my teardrops yesterday were true from the bottom of my heart. When I first arrived, I was having a hard time getting used to their less-developed environment. The weather was hot and I was uncomfortable. The first day at school, kids talked a lot during class time and we were actually really eager to go home. But then things changed…
  When I got to know the kids better and understand what kind of family backgrounds they had, I started to feel some compassion for them, and a strong emotion provoked me to help them out and teach them as much as I could.
  The subject I taught was music, which actually turned out to be really difficult to teach. It was especially hard at first, but as days went by, teaching became easier and more enjoyable. I loved singing with them, and I even wrote a song out of their textbook! We first taught them their textbook material, and after they understood what it meant and hoe to read it correctly, I composed an easy melody for them to sing. T hey loved the song and we ended up singing it repeatedly for five times!
  The kids were really cute because they were pure and really cared about each other. I was really touched on the say I fell and injured my leg. They crowded next to me and looked really worried. Even thought it was just a minor cut, I could tell from their eyes that they really cared and wanted to help out.
  On the last day, the kids kept on asking me if I was coming back next week. And I felt really sad when I told them that I was going home. It felt really miraculous that the kids who didn't listen in class and were naughty at first, turned into my buddies who would climb all over me a break time. L realized that it wasn't going to be easy to say goodbye.
  These two weeks have been amazing for me and it's an experience that I'll never forget. L learned that the key to teaching is to make your students feel that you like them and that you really mean it. I really love these kids and I'm sure they feel the same way as well. I feel like we had a great connection and I hope the best for their future.
On the last day when the bus started departing from the school, and the kids came chasing the car saying their last goodbyes, tears just came rolling down like a waterfall. I can hardly remember the last time I cried, but I'm sure my teardrops yesterday were true from the bottom of my heart.
By Dean Wang 07.14